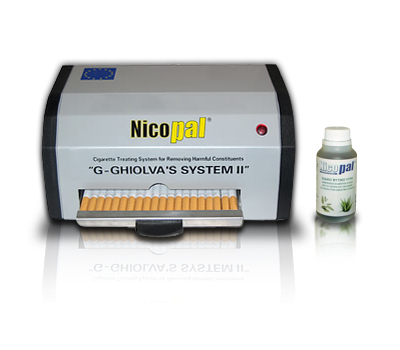 Welcome to the new website of the pioneer system of removal of harmful substances from cigarettes (Nicopal G. Giolva's System II).
---
It is a System that:
Does not alter the aroma and taste of tobacco.
It is a unique method, internationally patented - NO PCT WO-96/31255 - with accredited Greek and international documents.
It provenly reduces the percentage of harmful substances from cigarettes.
It cleans the lungs and increases stamina.
It helps so that smoking does not leave annoying smells and, this way, it ensures a healthier environment for both active and passive smokers.
Please select some of the choices on the left menu to browse our website.

Testimonials:
Alessandro, Italy
U guys r SAVING my lungs .... 🙏 😘 😘 😘 😘 😎 🕉
October 24, 2021
Biagio Goa
really really nice .... i know you by some italian friend's in barcelona .  saved my life , really thank you 🙂
September 22, 2021
Justin
Thank you so much, love the machine...
June 28, 2017
Danilo
Hi, your machine is a dream, thank you and regards Danilo xxx
March 20, 2014
Gal, Israel
I recently had a chance to see and use your NicoPal system. The system worked excellent with very impressive results
February 27, 2011