Dear customers,
COVID-19 pandemic is having a serious impact around the world. We understand that there are uncertainties right now. But we want to reassure you that Nicoapl is still up and running and we are dedicated to supporting our customers and partners, We will continue to send your orders via our e-shop but for your own protection and by law no order is received from the store.
Note that the Nicopal device sterilizes cigarettes and tobacco as are processed at high temperatures.

Athens, 20-03-2020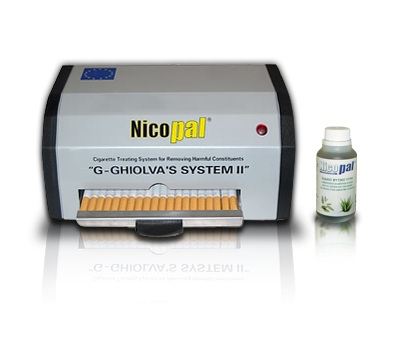 Welcome to the new website of the pioneer system of removal of harmful substances from cigarettes (Nicopal G. Giolva's System II).
---
It is a System that:
Does not alter the aroma and taste of tobacco.
It is a unique method, internationally patented - NO PCT WO-96/31255 - with accredited Greek and international documents.
It provenly reduces the percentage of harmful substances from cigarettes.
It cleans the lungs and increases stamina.
It helps so that smoking does not leave annoying smells and, this way, it ensures a healthier environment for both active and passive smokers.
Please select some of the choices on the left menu to browse our website.